SERVICES
TESTIMONIALS
These

boys

and

girls

are foot loose and doody free!
Kimberly Snyder

Jen is a highly effective colon hydrotherapist and the therapist who I recommend my clients and readers go see for gravity colonics in the New York & New Jersey area.

Mario Campanaro

I had the honor and privilege of working with Jen for my colon hydrotherapy. Anyone who is new to colonics will be the first to tell you what an extremely vulnerable treatment it can be. Jen not only made me so comfortable, she also gave me reason to trust her whole heartedly. She listened to my circumstances with a compassion like no other, and gave me insight as to what we can do to help alleviate so many of my issues. She educated me on nutrition as well as what can be done in the facility and at home to help strengthen and heal my gut. The more I went for my sessions, the more I realized this was not only a beautiful person helping so many people, but also someone that I was realizing is a true friend. Jen is there with you, so present, extremely generous,  and invested in your well being. She is gentle, VERY thorough (lol), and after a while of being a client, starts to add in a sense of humor when the client is ready. I have referred many people to see her because I trust her…and it takes a lot for me to really trust that someone knows what they are doing. Everyone that has worked with her says the same thing…she is an angel. You see it in her eyes, you feel it in her spirit, and then you feel it when the hose is taken out of your butt, lol. I am so grateful for everything that Jen has done for me! Love you Jen!! Thank you!!!!!

Nicky Rigg

I used to suffer from bloating, constipation and premature aging (always looking a decade older than I was) until I was fortunate enough to cross paths with Jen. Her gentle and powerful method of administering gravity colonics healed me of years of frustration from not being able to go to the bathroom. She taught me how to eat and maintain a healthy and vibrant digestive system, changing my overall physical appearance! I haven't had a flat stomach since I was 18, and now at 40, I often get mistaken for a 28 year old! I'm forever grateful!!!

Mary Rambin

Being a resource for cleansing and colonics, I've tried every method with many different therapists. It's my pleasure to tell you Jen is one of the best! She is passionate about the dynamics of our organs and explains what's going on each step of the way. Her approach is hands-on, literally. Your colon can't do the work alone so she assists with a firm but gentle massage throughout the gravity colonic treatment. I always have a very productive session with her and leave feeling amazing. You're in good hands!

Rachel Uchitel

I have suffered from both chronic back and digestive issues as long as I can remember. I have found that gravity colonics are literally the only consistent provider of instant relief. I always have significantly less pressure in my stomach and even less pain in my back after having a colonic. Over time, gravity colonics have trimmed my waistline and kept me fit. Jen is very thorough and gentle, making sure that I am comfortable and ultimately satisfied. I highly recommend her to anyone looking for relief from bowel issues.

Kerry

Better than winning the lottery! I feel like a revitalized person when I walk out of a hydrotherapy session with Jen. I've been getting colonics for 10 years. Woods Method has been the most effective and Jen is my favorite butt specialist. Jen is a knowledgable, personable profesional who provides a comfortable, private and hygenic enviroment to eliminate all the toxins in your body, so look no further and schedule an appt asap!

Maddy

I must admit I've always thought the idea of having a gravity colonic to be a bit too intrusive and repulsive and I would never have given it a try if I didn't know I could do it with Jen! I live in Europe so I'm not fortunate enough to be able to see her often but as soon as I'm in NY I pay her a visit and it always makes me feel like a million dollars! I feel lighter, fresher, more energetic and my skin generally looks much nicer after a few days! I also notice that the "unnecessary layer of skin" on my belly tends to disappear a few days after which is totally priceless! I have recommended Jen to all my friends who travel through NY and the ladies in my family have become very keen customers! I love Jen and I couldn't recommend her enough!

Jill Shapiro

As a colon therapist myself, I know a good colonic when I experience one. I met Jen just through chance because I needed a colonic last minute one day while I was visiting NYC. I have been to a bunch of therapists in the city for years and I am pretty picky with whom I work with. Not only is Jen super talented, but she is funny as hell. We have such a great time when I am on the table and I have referred a few friends to her as well. She takes a topic that people have a hard time opening up about and gives it to you straight and with compassion because she has the experience and expertise to share. She is real, honest, and one of the best therapists I have worked with in NYC. And cleans you out like nothing else! Oh and her blog, hands down amazing.

Dominique

I'd had stomach issues for years and read an article that recommended gravity colonics. I called up Doody Free and Jen picked up. She was upbeat, kind and also aware of my health issues. I was able to make an appt that same day after work hours. She explained everything and made me feel extremely comfortable. The actual therapy lasted 45min and I felt like a new person. Jen is a true healer!!! I no longer feel sick, anxious and toxic. Also, my skin was glowing. This is better than any medication you could take, it is a lifestyle. Jen was able to identify my stomach issues, but also gave me nutritional advice. I was so impressed by her knowledge.

Jenny

Colonics have profoundly changed the way I move and breathe. As a dancer, physical therapy student, acrobat and gyrotonic instructor, I was frustrated by my inefficient neuromuscular patterns. After years of studying movement techniques, my deep core musculature failed to support my spine and coordinate with my breath when I needed them.

After my first colonic, i immediately felt new space in my rib cage and breath musculature – air spilled in and out of effortlessly. After regular colonics, my deep abdominals and spinal muscles have the ability to stabilize and activate organically. In addition, my spine, shoulder girdle and hip flexibility rapidly evolved.

Besides revolutionizing my muscoskeletal system, colonics relieved chronic illness and distress I experienced. For years, I struggled with digestive problems, tension headaches and sinus congestion. Through regular colonic treatments, these ailments are now a minimal occurence in my life.

Jen is an incredible colonic hydrotherapist. After years of colonic hydtotherapy treatments, Jen stands out as a healer passionate about guiding and inspiring her clients to discover their innermost state of vitality.

Freddie Kimmel

I take my health very seriously and consider every thing that goes into my body…..that's why I put extra effort into choosing my hydrotherapist who would be managing the poop coming out. This girl is fun, knowledgeable, dedicated and loves what she does. It shows in her work and the upbeat, positive vibe that goes on in her office. Make the appointment and feel the relief. 5 stars.

Paola

Jen is the best colonic therapist in NYC/NJ! She uses the gravity method (not the machine) so it's gentle and it's the natural way to do it.

Jen is so knowledgeable you can ask her anything! She is an encyclopedia of information! so many of my questions, doubts and myths have been clarified. She also takes her time with the treatment (very generous), which in my experience had not been the case at other clinics.

You will feel right at home with Jen!

KC

I would rather die than be on this site.
JEN
Irrigating bowels since 2009 has given me a lot of insight into people's bathroom woes. In honor of my clients, I founded Doody Free Girl in 2012 in an effort to erase the stigma surrounding women and their basic human right to take a dump. I am constantly learning from my clients about the daily physical and emotional struggles involved in accomplishing this critical bodily function. Obstacles include anything from extra loopy intestines to office stage fright. Doody Free Girl serves as both a physical and a virtual refuge for those suffering from either physical or emotional constipation because ultimately, constipation can become a source of depression, anxiety and illness.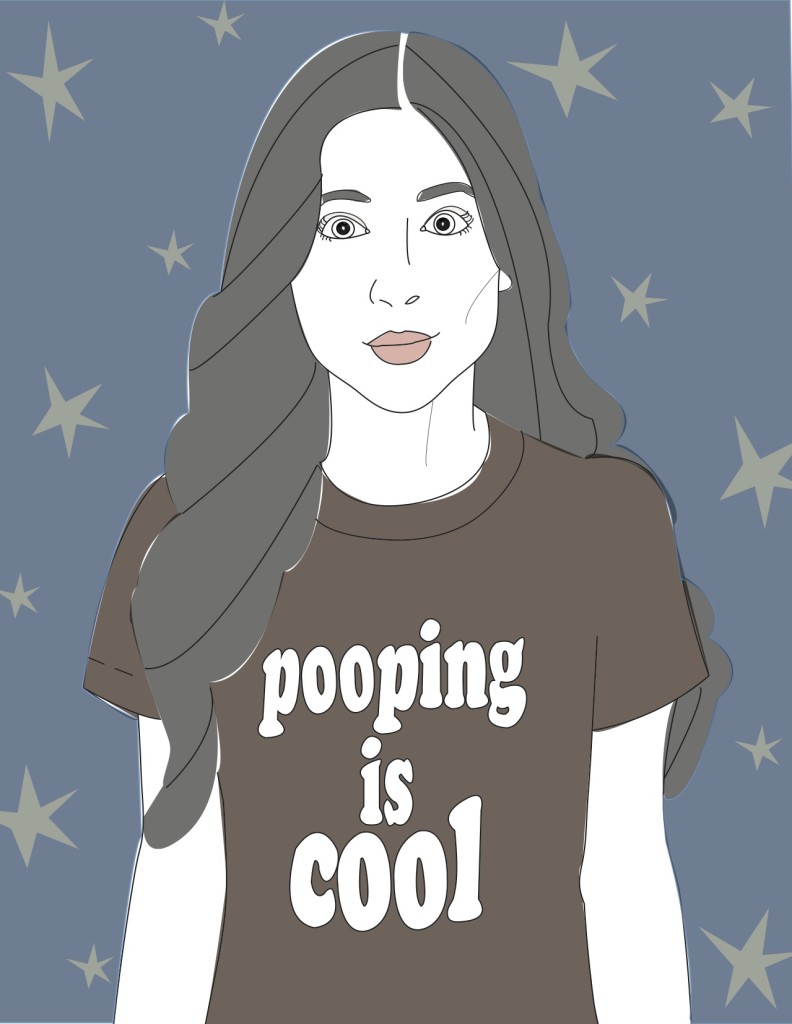 I received my Colon Hydrotherapist Certification from the Woods Hygienic Institute in Kissimmee, FL in 2009 from the one and only Helen Wood. In 2010, I received my Certified Nutritionist Consultant (CNC) and Holistic Counselor Certifications studying with holistic carnivore, Dian Freeman of Wellness Simplified in 2010. In 2009, I studied intensely with master detox chef, Doris Choi to learn how to create artisanal, yet healthy dishes with ease. I have also trained extensively with the likes of New York City's finest raw vegans; Tommy "Detox" DeVito, Gil Jacobs and Natalia Rose as early as 2008. I have worked full time as senior therapist at Release NYC since 2011. In short, I have studied and worked with the best and have embraced all of the extremes, bringing me to some universal conclusions I think everyone could benefit from.
So let's cut the crap. I believe the gateway to optimal health and vibrancy is through proper care of our digestive tracts. We must clear out the garbage in a timely fashion so that our bodies are free from toxic overload, allowing for only the absorption of essential nutrients from our food. Our digestive tracts can then provide proper nourishment via the bloodstream to the rest of our vital organs. Gravity colonics are the most natural and gentle, yet effective way to clear out weeks and arguably years worth of waste. That's what I do! I hope to affect change through clean, happy colons because a healthy butt promotes a confidant strut!
All joking aside, I take great pride in providing the safest and cleanest environment for my clients. Comfort and trust are of utmost importance during a colonic treatment for optimal results and therefore, never taken lightly.
Disclaimer: I'm not a doctor (not even a little bit), just a glorified plumber. Please consult with your doctor before testing my tricks.
GET SOCIAL
Follow my ass! I'll lead you to water…
BLOG
I got 99 problems, butt…
A conversation with a client last night shed some more light on why girls are so afraid to go #2 in public. I've become so jaded from my work that I easily forget how traumatizing it is for girls to poop in public even around their female peers. My client, a grown woman, is still terrified to poop in the multi-stall women's bathroom at work for fear of what her coworkers may say behind her back. She explained that if she walked into the bathroom and someone was in one of the stalls, even though she really needed to take a dump, she'd pull the classic move of either blowing her nose or washing her hands and immediately leave the bathroom. Women should not have to suffer like this!

So I want to address the two causes for embarrassment that women fear will make headline news around the office with regards to taking a shit: smell and noise. Smell can easily be remedied by carrying a small bottle of Poopourri in your purse. This all-natural toilet spray is sprayed into the bowl before pooping. The magic happens once you flush. A poof of scented freshness hits the air without the overwhelming allergic response common to most air fresheners. Just make sure to give an immediate courtesy flush as soon as your log hits the water. This helps minimize the smell. Repeat Poopourri directions until you are finished and make sure you take your time. By this point, everyone knows you're dropping a deuce.  Noise is a little tricker.  You really never know what you're gonna get when your booty hits the porcelain. My trick is to cough or blow my nose at the point of release. This way, not only is the noise covered, but your body won't shy away from just letting it all go!

Girls, quit gossiping about who bombed the bathroom earlier. Give your neighbor the high five she deserves and let's move on.
Become regular clients!
Feel loads lighter!
Experience less bloating!
Achieve the regularity glow!
Located in The Brunswick Center
Doody Free Girl
189 Brunswick Street


Studio D




Jersey City, NJ 07302
201-565-3447
jen@doodyfreegirl.com
(call/text/email me for appointments or book online!) 
Directions from NYC: Take Path Train (JSQ) to Grove Street Station in Jersey City.




Head west on Newark Avenue (by the Duane Reade) toward Grove Street. Keep walking for about 12 minutes. Turn right at Fourth Street, but walk up Brunswick Street (not Fourth Street). Brunswick Street forks with Fourth Street. The Brunswick Center is the old Catholic school on the corner of Brunswick Street and 7th Street.  

(15 minute walk from Grove Street station /$5 Uber / Citibike from Grove Street Station to Brunswick Street Station.)